This apple tasting party will be a hit with your family or the local teens as they predict their favorite kind of apple and put it to the test. Perfect fall kick-off before all the pumpkin festivities!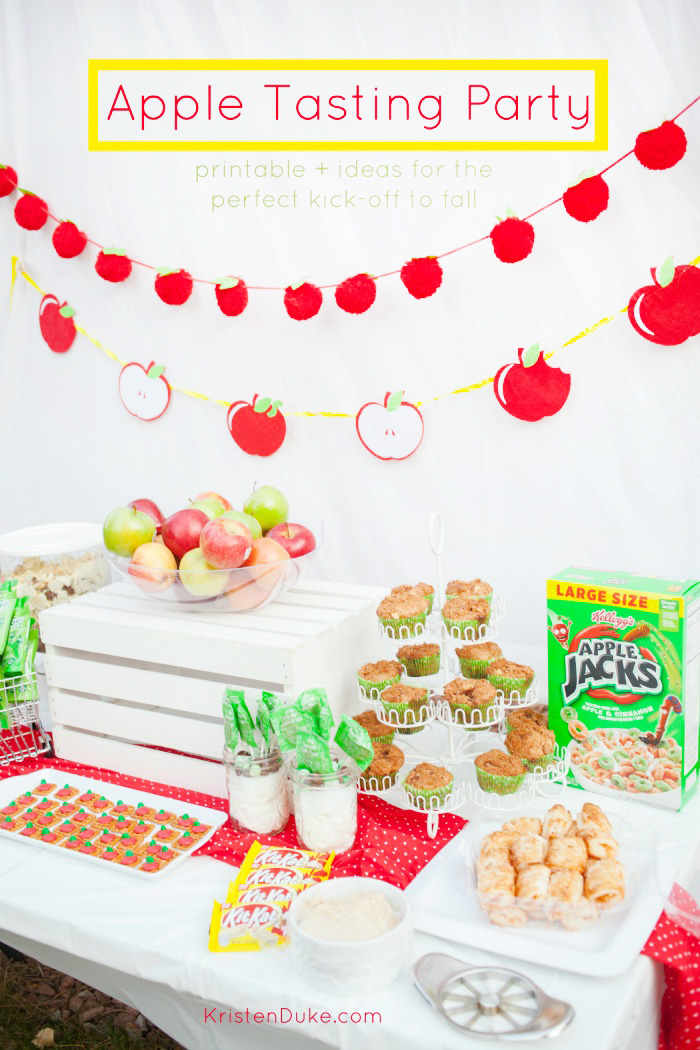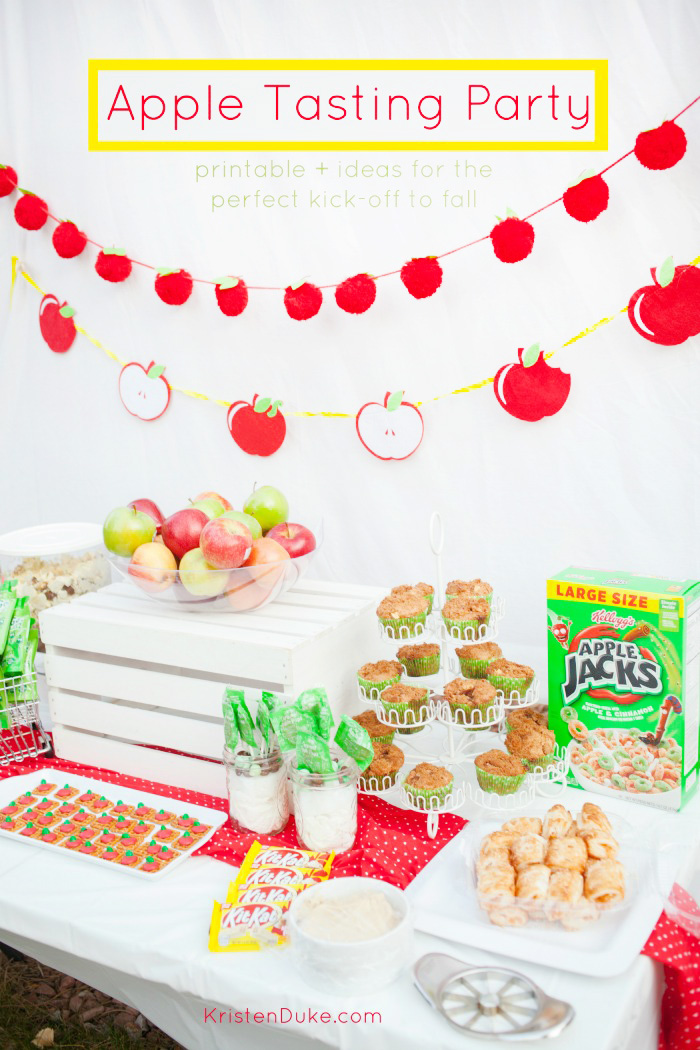 About 5 years ago our family had an apple tasting party. I gathered 10+ types of apples and we sampled each one to determine our favorite. It was SO fun, and I'd been wanting to do a teen apple tasting party ever since. Did you know we've done a year of teen party ideas? You've got to check them out! (Pumpkin Carving Party + Friendsgiving Pie Night)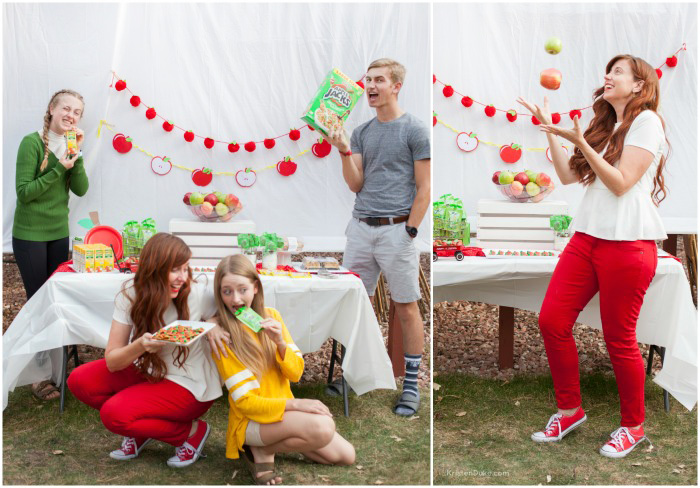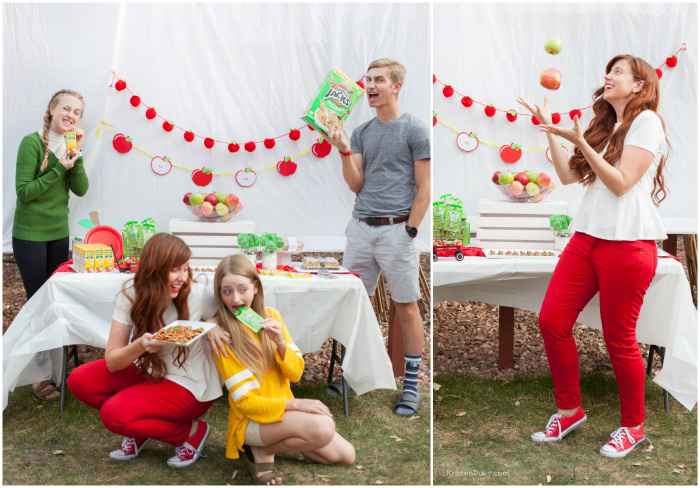 Apple Party
For the apple party, not only did we find 10 types of apples to sample, but of course had to get some fun apple treats to go along with the party decoration. I get a little crazy with a theme party, and I'd never done APPLES before! As luck would have it, our nearest grocery story had exactly 10 different types of apples. My designer made the handy "placemat" with the 5 most popular on it that are generally found at every store, and then 5 blanks for whatever else we could find.
The Colorado September weather was PERFECT for our outdoor gathering, and mine and my daughters wildest dreams came true as we strung 100 feet of outdoor lights across our yard. It was as magical as I had hoped! The apples were the main decoration and pulled fresh twigs/leaves from our backyard tree for the table.

These are the light we found on Amazon and they were perfect! 100 feet altogether.
Apple Desserts
There are no shortage of apple desserts on the internet. I had to scale it back! Generally, I ask party goers to bring something in the invite, but teens don't always pass that message onto parents, and it doesn't always happen. In hindsight, I may try to get to parents, but in this case, I haven't met half of the parents that my teens are hanging out with after recently moving here. My friend Shelli helped me make a few dishes, and I found candies, and we were pretty set up well.
Here is the food we had on hand at the apple party:
Cream cheese apple dip
Caramel Dip
Snickers Apple Salad
Apple muffins
Apple Juice Boxes
Apple caramel suckers
Brach's candy apple (like candy corn)
You can buy the two dips at most grocery stores or make them (I made the cream cheese this time and bought the caramel). The candies are various places, the only thing we MADE were the Snickers "salad" and muffins made by Shelli. Our local grocery store also had apple fritters, apple bars, apple pie, etc. Consequently, I had to refrain. They were on the list of things people COULD bring, but it all worked out great.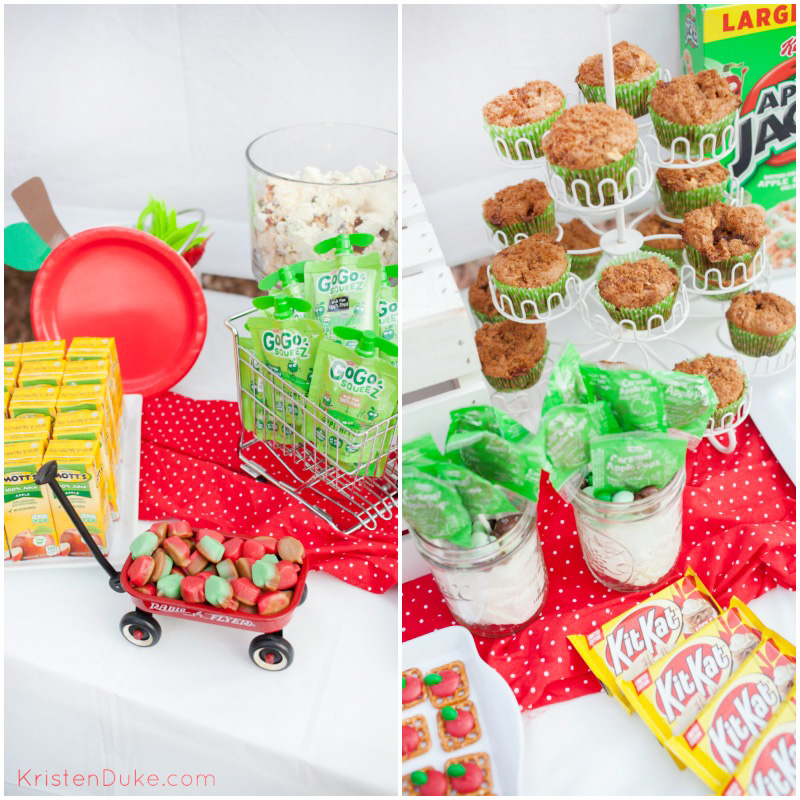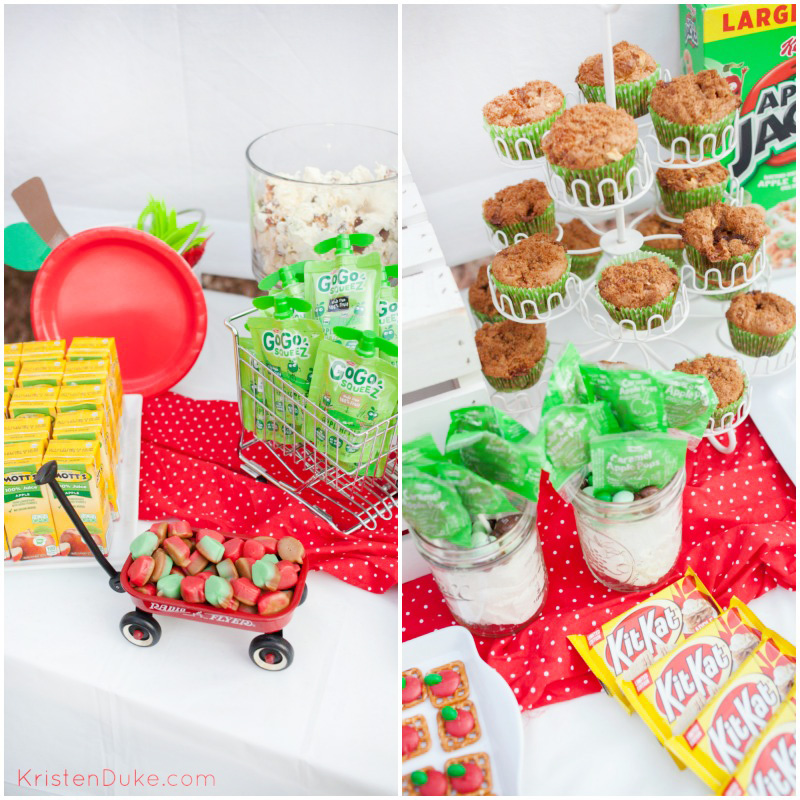 Apple Tasting Party Tips
Our home only had one apple slicer and I worried it wouldn't be enough. I borrowed a second that I didn't end up using, what was nice was having 2 adults work the slicing and distributing. My friend Shelli sliced the first apple, handed it to me, and I passed it out to the crowd while she started working on slicing the second apple. It worked perfectly!
I had a bunch of paper plates that was nice because each teen had their own plate (and put their dips on it) and then we had one plate per type of apple.
The teens were encouraged to try each slice on it's own, rate it, take notes, then dip.
We should have not had them get more apples of each kind til the end, they were filling up QUICK!
 Free Apple Tasting Party Printables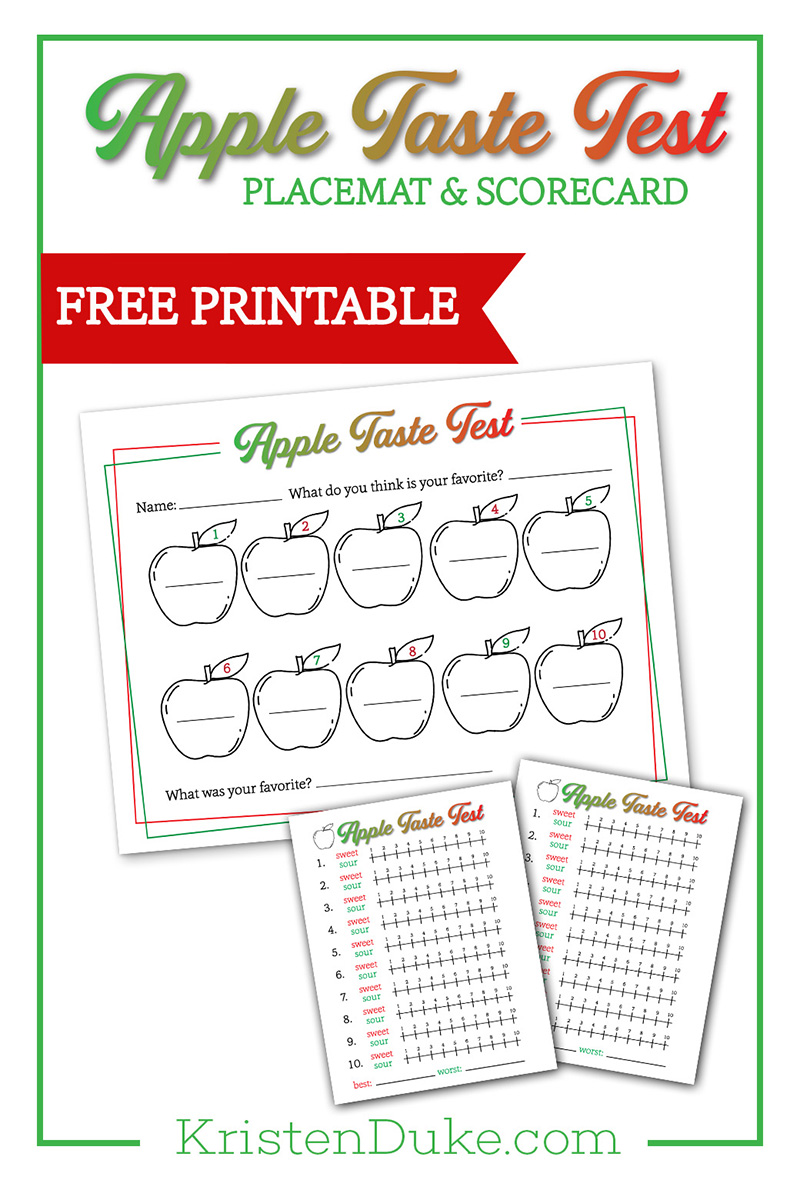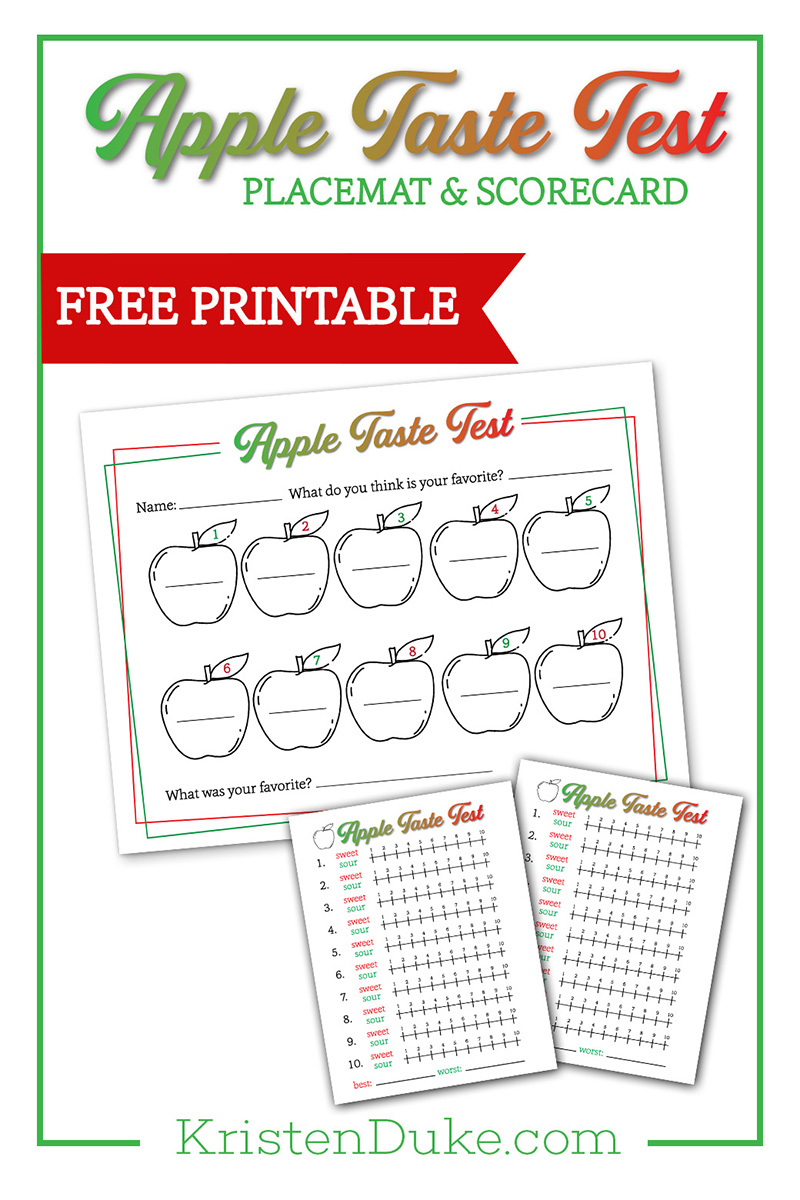 Click the links to download
It seemed fun to have the kids guess their favorite at the beginning and then see how it compared after trying them all at the end. Some said, "they mostly taste the same" while others were surprised at how vastly different they tasted. I also encouraged them to take notes along the way, and I love the shot below of my daughter Alyssa and her friend Lillie's score card and notes. Things like, "tastes like apple juice" or "not as good as I thought" or "gag me with a spoons!"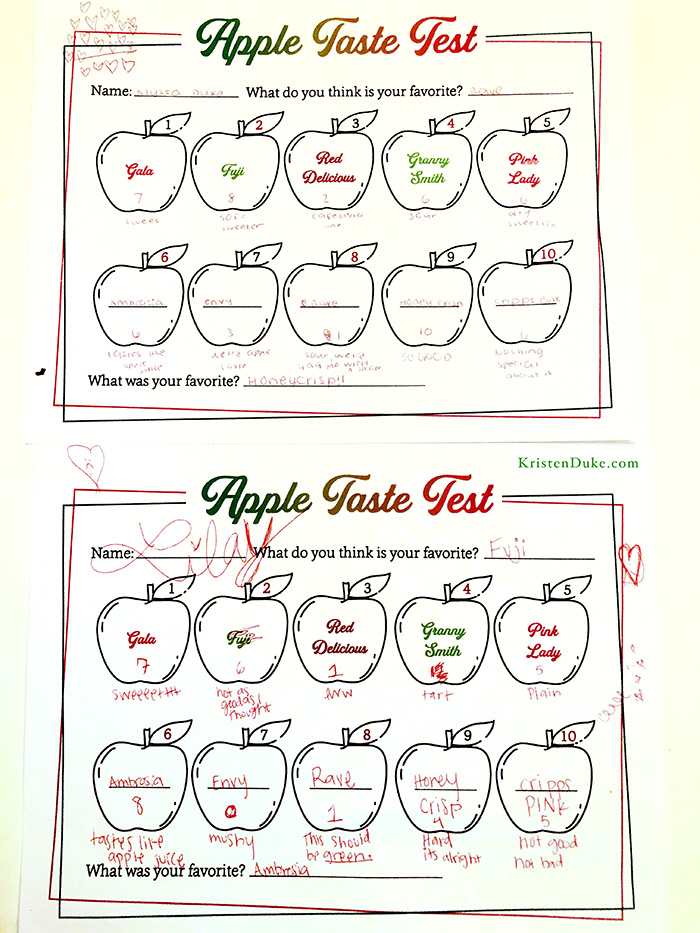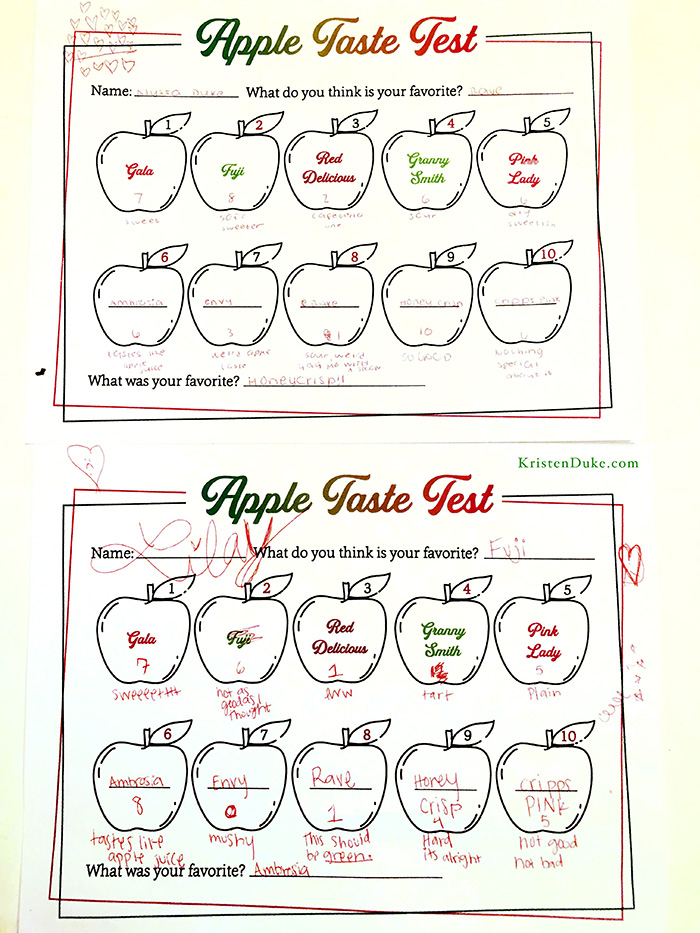 Apple Jokes
I pulled out the apple jokes I have on my website (did you know I have hundreds of free printable LUNCH JOKES?) and spread them across the table and encouraged them to read and discuss. Click that first link to print the apple jokes!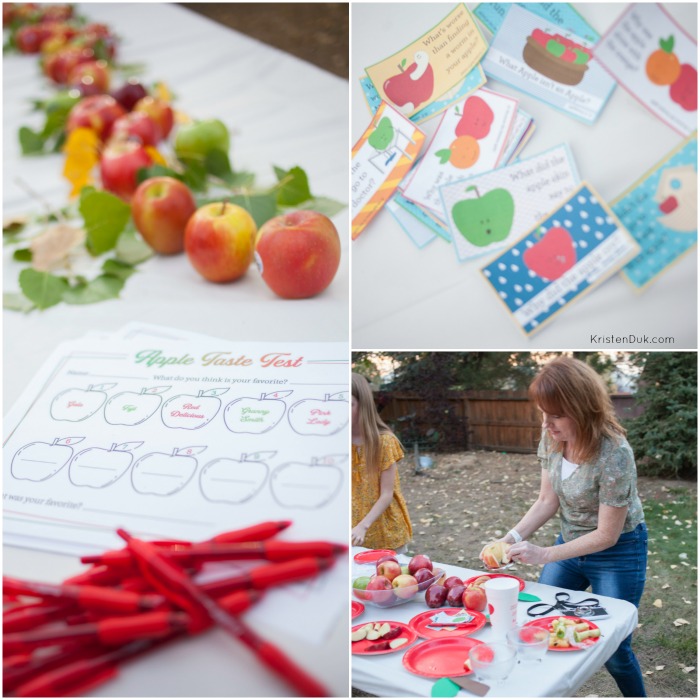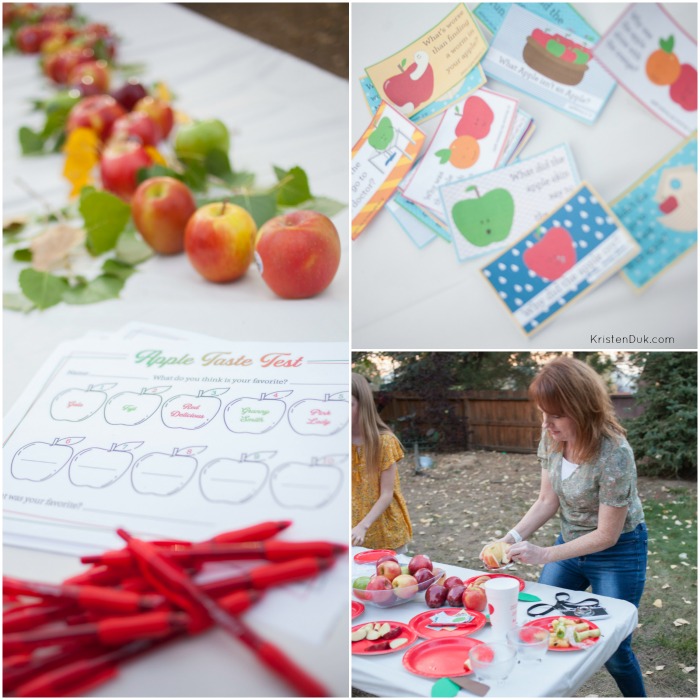 I encouraged my kids to invite a handful of kids that have invited them over, and they were worried to "mix groups" They don't LOVE being the host as much as I do, but I nudged them, and they did pretty good. By the end of the night, the numbers doubled. I wished they all would have been there at the beginning to sample the apples, but they trickled in, so what can we do? We left out all the treats and apples and dips and went inside while they watched a movie on the projector/screen we borrowed from our friends.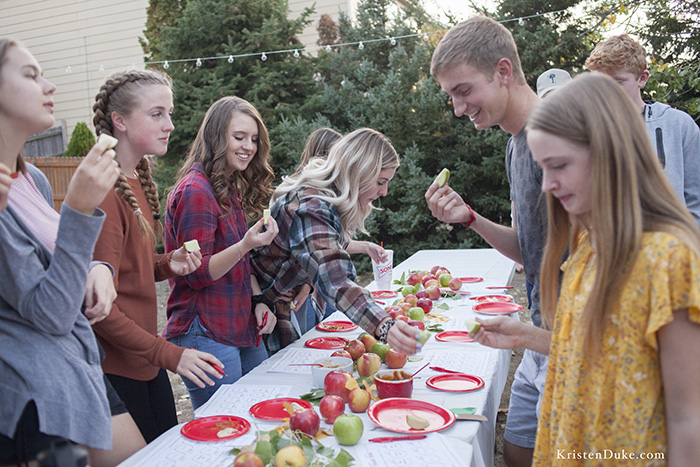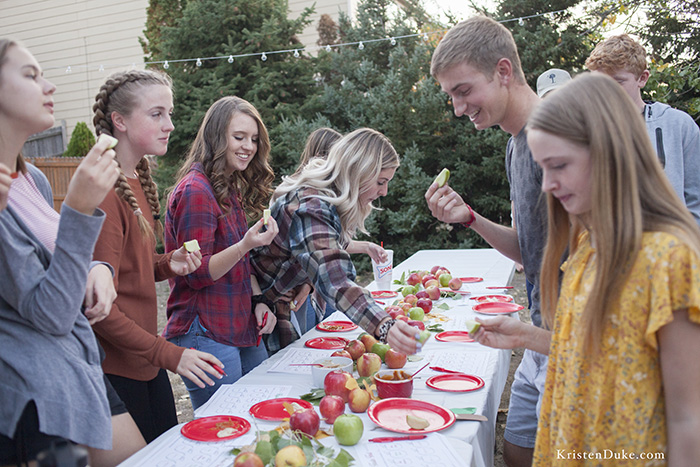 It was a GREAT night, I was so happy to have our first gathering at our new home, and the backyard (with the lights) made it perfect.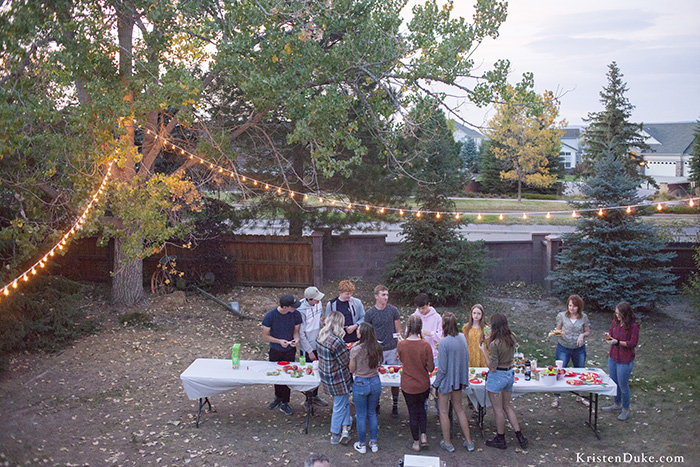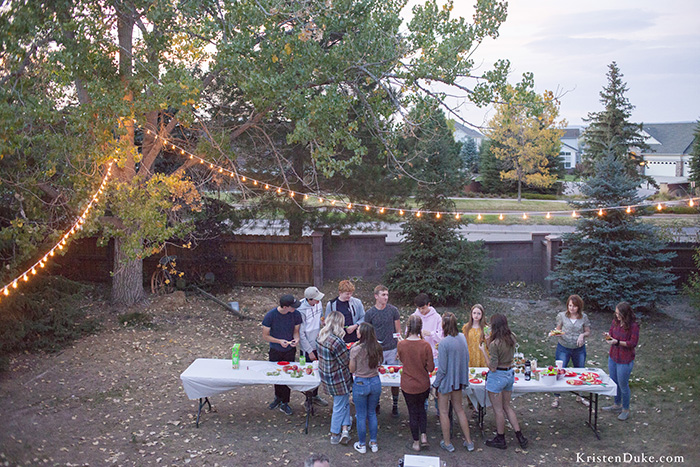 If you want to see a little video of how it all came together, hit PLAY below!